Home

|

Isabelle Print | 100% Cotton Woodblock Hand Stamped Head Scarves
Cardani Bamboo Scarf Pad.
Woodblock printing is an ancient art involving many skilled craftsmen, including block makers, a color master (the dyes are made by hand), and precise printers. Skills are usually handed down from parent to child. Printing a design requires between 5-15 different blocks. The printer hand stamps the cloth between 700-1000 times to create 3 meters of printed fabric. After 100 meters, the hand carved teak blocks wear out and must be carved again.
" />
4.0
4 star rating
1 Reviews
Thank you for posting a review!
We value your input. Share your review so everyone else can enjoy it too.
Thank you for posting a review!
Your review was sent successfully and is now waiting for our staff to publish it.
Thank you for posting a question!
Please click on the link in the confirmation email we just sent you to submit your question.

Your question will appear on the site once someone answers it.
M
Mary P.
Verified Buyer
A Verified Buyer is a user who has purchased the reviewed product through our store.
4 star rating
I wear the oversized cotton
I wear the oversized cotton scarves often and have purchased a few of them . I would like to purchase more but have run into an issue that I'd like to see addressed. Two of the woodblock scarves that I've ordered over the years have had an extremely powerful chemical odor. I tried soaking in vinegar , borox and other odor neutralizing methods with no success and was unable to wear them. I was bummed because they were among my favorite scarves. The one shown in the photo did not have the chemical odor and i've Almost worn it out! So cool and comfy in hot weather.
I'f Like to order more if I could be assured that they wouldn't have that odor. I'd also like to have the larger cotton scarves in solid neutral colors.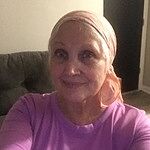 On Isabelle Print | 100% Cotton Woodblock Hand Stamped Head Scarves

Thank you for your review and great photo! We love the uniqueness of these hand made, hand stamped scarves. Because the dyes are hand made, certain colors (very dark hues) can occasionally have a slight scent. Each batch is going to be as individual as the artist who makes them. Even the rare scarf with the most stubborn and concentrated scent should dissipate after a couple of washings. That being said, we believe you and we did examine our current inventory and are unable to find any scarves with this problem. However, we have had designed hundreds of patterns and color combinations from dozens of artisans over the years. Please reach out and let us know which ones you have had a problem with and we will be more than happy to assist you. :)